May 25-28, 2008 in Puerto Rico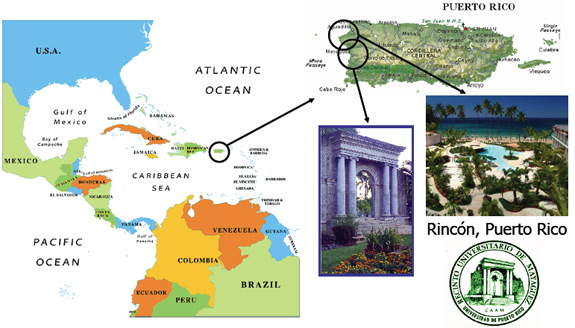 Traveling and Flying to Puerto Rico

Most mayor airlines fly to Puerto Rico from the continental United States and from mayor hubs in Europe. You can fly non stop to Puerto Rico from Frankfurt, Madrid, Chicago, Atlanta, Miami, Houston, Los Angeles, Philadelphia and New York.
International flights arrive to Luis Muñoz Marín International Airport (Airport Code: SJU) in the town of Carolina which is approximately a 2 hour drive to Rincón of the Seas.
The second largest airport in Puerto Rico is Rafael Hernandez (Airport Code: BQN) in the town of Aguadilla. Aguadilla is approximately a 15 minutes drive to Rincón of the Seas. We recommend you fly into the Rafael Hernández - Aguadilla airport for the Conference.
The airlines flying to the Rafael Hernandez - Aguadilla airport are Jet Blue from John F. Kennedy (Airport Code: JFK) in New York and from Orlando (Airport Code: MCO) in Florida, Continental Airlines from Newark International Airport (Airport Code: EWR) in New Jersey, and Spirit Airlines from Fort Lauderdale (Airport Code: FLL) in Florida.
Non-American citizens are required to have a valid passport or visa. For more information regarding passports and visas call the Puerto Rico Department of State Tel. 1-787-722-2121.

Related Links

Airlines:
The following links are provided as a service to our visitors. This listing does not represent and endorsement from the University of Puerto Rico.

Jet Blue Airways www.jetblue.com
| | | | |
| --- | --- | --- | --- |
| Destination | Flight Number | Arrival | Departure |
| Aguadilla,PR | 723 | 3:03 AM | |
| Orlando,FL | 724 | | 4:00 AM |
| | | | |
| Aguadilla,PR | 727 | 3:23 AM | |
| New York,NY | 728 | | 5:30 AM |
| | | | |
| Aguadilla,PR | 735 | 9:23 AM | |
| New York,NY | 736 | | 10:20 AM |
Continental Airlines www.continental.com
| | | | |
| --- | --- | --- | --- |
| Destination | Flight Number | Arrival | Departure |
| Aguadilla,PR | 312 | | |
| Newark,NJ | 315 | | |
Spirit Airlines www.spiritair.com
| | | | |
| --- | --- | --- | --- |
| Destination | Flight Number | Arrival | Departure |
| Aguadilla,PR | 803 | 3:40 PM | |
| Fort Lauderdale,FL | 802 | | 4:20 PM |
| Aguadilla,PR | 815 | 1:35 AM | |
| Fort Lauderdale,FL | 814 | | 3:25 AM |
Other links:
Aguadilla Airport
Telephones:
787-891-2286
787-890-3315
Mayagüez Airport
Telephones:
787-265-7065
787-832-3390
Puerto Rico Tourism Company:
URL:
http://www.gotopuertorico.com
Telephones:
Main Office787-791-1014
Regional Office787-890-3315
Germany 49-611-267-6710
Belgium 00-800-7426-7426
Canada 800-667-0394
France 331-44-77-87-00
Italy 00-800-7426-7426
Mexico 525-55-553-2730, EX 13/14
New York 800-223-6530
Miami 800-815-7391
Los Angeles 800-874-1230
United Kingdom 44-1932-231-808