Registration

Please observe the following requirements for including papers in the proceedings: at least one author must be presenting the paper at the conference and be registered for the conference.
On-site Registration in Rincón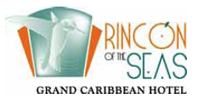 On-site registration will start May 25 at 17.00 (5.00 pm). The registration desk and conference secretariat will be located at the Rincón of the Seas Grand Caribbean Hotel lobby and will be open during the conference.

Conference Hotel Rates

$120 untill april 11, 2008. Subject to availability. For reservations or more information call at Tel. 787.823.7500 • Fax 787.823.7503

Rincón of the Seas-Grand Caribbean Hotel features 112 guestrooms, most with private balconies overlooking the Caribbean Sea, the swimming pool, or our exotic gardens. Blue and green are the colors that predominate in our tropical Art Deco interiors. Four room categories are available: Deluxe, Deluxe Oceanview, Beach Cabana and Art Déco Suite. (Hotel Website Link)
Hotel Overview
Live an exuberant experience at Rincon of the Seas-Grand Caribbean Hotel. Enjoy an ambience of casual elegance which blends Caribbean motifs with the splendor of classic Art Deco design. Custom-made furnishings and unique masterpieces from around the world combined perfectly with hand painted murals and marble flooring adorn the spaces of our very glamorous oceanfront hotel. Outside, amongst our masterfully designed botanical gardens, you will find an impressive collection of rare palm trees as well as interesting examples of local flora. Exquisite interior design, magnificent gardens and a superb location accentuate the exuberant experience of Rincon of the Seas-Grand Caribbean Hotel.
Tipping
A gratuity is included in the price of hotels and taxis. It is common to leave a tip of around 10%, however. When visiting restaurants, you can show your appreciation for good service by leaving a little extra.
Taxes
Puerto Rico has a general 7% goods and services tax. Other rates apply to specific luxury items, such as jewelry, and to other goods such as distilled spirits.


Flight Schedules 2007

Now is more easy than ever....
Why arriving at San Juan, Puerto Rico, if you can do so at the Aguadilla International Airport at just 35 minutes from us..... Continental, Jetblue and Spirit Airlines are now at the Aguadilla International Airport.

CONTINENTAL AIRLINES
Daily flight arriving at Aguadilla, PR at 10:58pm and departing flight at 9:10am

JETBLUE AIRLINES
From Orlando:
Daily flight arriving at Aguadilla, PR at 1:50am and departing flight at 4:00am
From New York:
Daily flight arriving at Aguadilla, PR at 3:30am and departing flight at 6:00am, and beginning February 15, 2007 they are going to have another daily flight arriving at Aguadilla, PR at 10:25am and departing flight at 11:25am

SPIRIT AIRLINES
Beginning April 12, 2007
Monday, Thursday, Friday, Saturday and Sunday
Flight arriving Aguadilla, PR at 3:40pm and departing flight at 4:20pm
Important dates


| | |
| --- | --- |
| Activity | Deadline |
| Submission of full papers | January 21, 2008 |
| Final notification of acceptance | March 25, 2008 |
| Submission of final papers | April 18, 2008 |
| Conference | May 25-29, 2008 |