About UPRM/EE, Puerto Rico and Rincón

UPRM and the Electrical and Computer Engineering
(ECE) Department

The University of Puerto Rico, Mayagüez Campus (UPRM) was founded in 1911 as a land-grant college under the provisions of the Morrill-Nelson Act. Today, over 800 professors and researchers; 1,200 supporting staff; and approximately 13,000 students are part of UPRM's academic community. The institution is fully accredited by the Middle State Association of Schools and Colleges, of which it has been a member since 1946. UPRM is among the top ten institutions in the US in undergraduate engineering enrollment. Over four thousand six hundred (4,600) students register each year in the university's engineering programs. The university graduates 700 engineers per year, or 25% of all Hispanic engineers in the United States. There are six engineering degrees offered: chemical, civil, computer, electrical, industrial and mechanical engineering. Additional information can be found at http://www.uprm.edu/.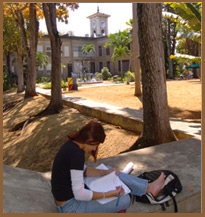 The Department of Electrical Engineering (EE) was founded in 1928. The EE Master of Science program was established in 1967, while the Computer Engineering Program (CpE) was added in 1981. The EE program has been accredited by ABET since 1960 and the CpE program since 1994. The Electrical and Computer Engineering (ECE) Department presently has 53 full time faculty members, over 1,300 undergraduate students (including 500 Computer Engineering majors) and over 120 graduate students. The bachelor's degree is a five-year, 165 credit-hour program. There are five areas of specialization in Electrical Engineering (EE): Applied Electromagnetic, Control, Communications, Electronics and Power Engineering. Additional information can be found at http://www.ece.uprm.edu/inelicom/index.php.
Puerto Rico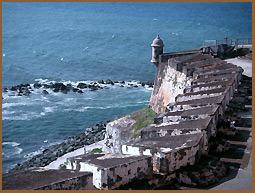 The Commonwealth of Puerto Rico is located in the Caribbean Sea, about 1,000 miles east-southeast of Miami, Florida. A possession of the United States, it consists of the island of Puerto Rico plus the adjacent islets of Vieques, Culebra, and Mona.
When Christopher Columbus arrived in Puerto Rico in 1493, the island was inhabited by the peaceful Arawak Indians, who were being challenged by the warlike Caribe Indians. Puerto Rico remained economically undeveloped until 1830, when sugarcane, coffee, and tobacco plantations were gradually developed. After Puerto Ricans began to press for independence, Spain granted the island broad powers of self-government in 1897. But during the Spanish-American War of 1898 American troops invaded the island and Spain ceded it to the U.S. Since then, Puerto Rico has remained an unincorporated U.S. territory. Its people were granted American citizenship under the Jones Act in 1917; were permitted to elect their own governor, beginning in 1948; and now fully administer their internal affairs under a constitution approved by the U.S. Congress in 1952.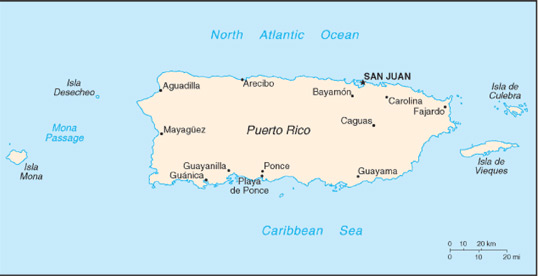 Climate
During May the temperatures in Puerto Rico typically vary between a daily high of about 87 F and a daily low of approximately 74 F. Rain is most likely to occur around 2:00 PM during the month of May, and it is least likely to occur around 8:00 AM.
Electricity
Electrical current in Puerto Rico is 120 V/60 Hz. Standard US outlets, either two flat parallel blades (type A) or two flat parallel blades with a round ground or earthing pin (type B) are used. Appliances designed to operate on 220 V/50 Hz need a voltage converter and a plug adapter.
Time Zone
The time zone in Puerto Rico is UTC - 4 hours (Atlantic Time Zone). Daylight Saving Time is not used.
The Commonwealth of Puerto Rico
A self-help program of economic development and social welfare, called "Operation Bootstrap", was forged in the 1940s by four-time governor Luis Muñoz Marín. In a little more than four decades, much of the island's crushing poverty was eliminated. This was done partly through the development of manufacturing and service industries, the latter related to an enormous growth in tourism. Also, many Puerto Ricans migrated to large cities on the mainland U.S.
You can get a charter flight from Luis Muñoz Marín Airport to the local airport in the city of Mayagüez just a few minutes from the university. You may also find charter flights from Luis Muñoz airport to Aguadilla or the local airport of Merceditas in the town of Ponce which is about one hour and a half from Mayagüez. American Eagle a subsidiary of American Airlines has daily flights to Mayagüez.
Non-American citizens are required to have a valid passport or visa. For more information regarding passports and visas call the Puerto Rico Department of State at Tel 787-722-2121. View our Foreign nationals page for additional information.
Some of the american airlines flying to Puerto Rico are American Airlines, JetBlue, Spirit, Delta, Continental, American Trans Air, Northwest Airlines and United Airlines.
Today Puerto Rico is a major hub of Caribbean commerce, finance, tourism, and communications. San Juan is one of the world's busiest cruise-ship ports, and Puerto Rico's standard of living continues to be among the highest in the hemisphere. Its future political status, however, remains unclear. On March 4, 1998, the U.S. House of Representatives passed a bill that called for binding elections in Puerto Rico to decide the island's permanent political status.
Puerto Rico's governor is elected directly for a four-year term. A bicameral legislature consists of a 27-member Senate and a 51-member House of Representatives, all elected for four-year terms. From 1940 to 1968, Puerto Rican politics was dominated by a party advocating voluntary association with the U.S. Since then, the New Progressive Party, a party favoring U.S. statehood, has won five of the last eight gubernatorial elections. Puerto Ricans have twice voted to determine their political status. In 1967, the outcome was Commonwealth 60%; statehood 39%; independence 1%. In 1993, Commonwealth dropped to 48.6%; statehood rose to 46.3%; independence polled 4.4%; and 0.6% of the ballots were blank or spoiled.
Under the Commonwealth formula, residents of Puerto Rico lack voting representation in Congress and do not participate in presidential elections. As U.S. citizens, Puerto Ricans are subject to military service and most federal laws. Residents of the Commonwealth pay no federal income tax on locally generated earnings, but Puerto Rico government income-tax rates are set at a level that closely parallels federal-plus-state levies on the mainland.
Rincón
Located in Western Puerto Rico, the town of Rincón is a small beachfront community which boasts some of the most beautiful scenery in the island. Be ready to discover this town of exceptional beauty and rural hospitality. Known as "The Surfing Capital of Puerto Rico" and "The Land of Beautiful Sunsets", visitors to Rincón have discovered that this small town offers more than just surfing and sunsets. Although Rincón is a small town of only 11,000 residents it has attracted visitors from all over the world for many years. In general, Rincón offers nightlife quite different from what you would find in Puerto Rico's capital (San Juan). We believe that its charming beachfront restaurants, bars and inns offer a much more authentic sample of Puerto Rico's Caribbean hospitality.
Water sports abound in this area. Due to the geographic location of the town of Rincón, its northern beaches are considered part of the Atlantic Ocean, while the southern beaches belong to the Caribbean Sea. Surfers visit the northern side of Rincón to find what surfing connoisseurs consider the best surfing spots in the Caribbean, while bathers, divers and kayakers prefer the much calmer southern beaches. Located in the south side of Rincón, the beach at Rincón of the Seas-Grand Caribbean Hotel is perfect for bathers and kayakers. See hotel website link (link).
Scuba divers consider the Island of Desecheo (located right in front of Rincon, and very visible from Rincon of the Seas) one of the top Scuba diving spots in the world. Local outfitters can arrange Scuba or snorkeling trips to the island.
Other area attractions include the Camuy Cave System, the third largest of its kind in the world. An amazing display of natural beauty, these caves are located approximately one hour northeast of Rincon.
For golf players, the excellent Punta Borínquen Golf Course is located in Aguadilla, approximately 20 minutes north of Rincon. This 18-hole golf course is one of the islands oldest courses, originally built for military use within the Ramey Air Base and which hosted players such as General Eisenhower.